We are excited to have an opportunity for in-person interaction that we have missed after holding the Urban and Small Farms Conference online. This Field Day is perfect for specialty crop producers engaged in direct marketing including CSAs, farmers markets and other outlets, as well as commercial growers that want to stay up-to-date with all of the latest agriculture research. See plant trials and demonstration gardens at the beautiful USU Botanical Center in Kaysville. Get hands-on and up-to-the minute answers to your specialty crop and business questions.
This event will continue rain or shine!
Agenda:
9:00 AM: Check-in and networking with colleagues while enjoying coffee and pastries.
10:00 - Noon: Participants will choose from 5 tracks to attend for each of 2, 1-hour sessions. There is limited capacity for each track. Participants will not be able to change tracks during the hour. If a track you choose is full, and you are not interested in any of the others, you may place your name on a waitlist for a track. On the day of the event, after everyone has checked in, it will be determined if space has opened up in each track.
Topics & Presenters:
Track 1: Vegetable Research Tour - Dan Drost, Extension Vegetable Specialist, and colleagues will lead a hay wagon ride through the vegetable research plots. Participants will stay on the wagon for the entire tour and be able to ask questions along the way.
Track 2: Fruit Research Tour - Also a hay wagon ride, Brent Black, Extension Fruit Specialist, and colleagues will take you to the fruit tree and small fruit research plots. Participants will stay on the wagon for the entire tour and be able to ask questions along the way.
Track 3: Microfarming - Small Scale Fruit - learn about fruit trees, rootstocks and how to properly manage trees for small scale production with Professor Mike Pace. Grape selections and management strategies for Utah will be discussed by Associate Professor Mike Caron.
Track 4: Microfarming - Weeds and Irrigation - learn the basics of weed management and the importance of sprayer calibration with Assistant Professor Cody Zesiger. USU Botanical Center Operations Manager and Irrigation Specialist Mike Kilcrease will cover some of the basics of irrigation for micro-scale operations.
Track 5: Cut Flower Research Update and Hands-On Crop Budgets - Melanie Stock, Urban & Small Farms Extension Specialist and Ruby Ward, Agricultural Entrepreneurship Specialist. This is an opportunity to find out how profitable your crops are and whether they earn their space on your farm. Bring your laptop, estimates of expenses, yields, and returns. We will help you put them together into an enterprise budget and discuss options to increase the bottom line. We will also provide an update on USU production resources, pests, and disease for 2023, as well as survey irrigation needs.
Noon to 2:00 pm: Enjoy box lunches from Apple Spice and visit the vendor displays
1:00 pm: (OPTIONAL) Meet at Botanical Center Urban Farm Demo Garden for a tour available at 1:00 (Please Note: This is about a 1-mile walk in the sun).
Dr. Grant Cardon, Soil Specialist will also discuss and demonstrate soil sampling (optional).
Sponsor/vendor displays will be available until 2:00 pm
Parking is available in front of the Education Center (See map below). Carpooling is recommended. Extra parking is possible on the street and in the Varga Arboretum.
USU Botanical Center website: https://extension.usu.edu/botanicalcenter/index
Having trouble registering? Contact: Ginger Dalde (385) 468-4824 or ginger.dalde@usu.edu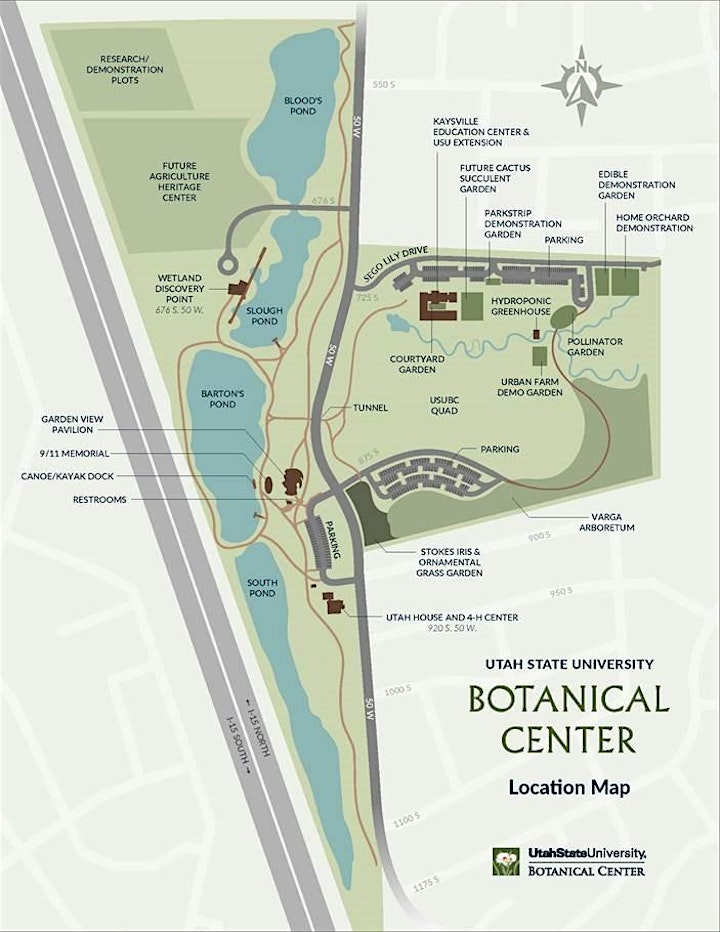 Past Events
2023 Urban and Small Farms Conference
This event was held February 21-24, 2023
For recording, presentations and information, view our Urban and Small Farms Conference page
Also check out our
Fundamental Resources for Agricultural Micro Entrepreneurs
Check out these great resources for micro-entrepreneurs!